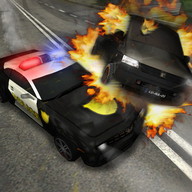 Police City Chase Racing 3D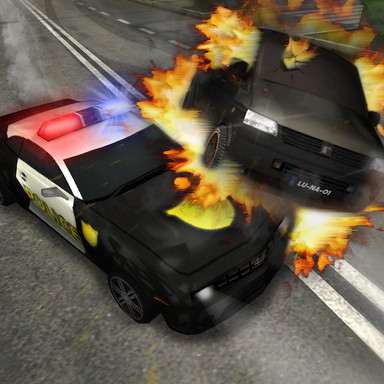 Açıklama
Police City Chase Racing 3D Android Game
Get ready for the ultimate police chase and test your skills in this crazy game
Get ready for the ultimate police chase. The city streets heat up as you are in hot pursuit of a most wanted crook. This is cops & robbers to the max with daredevil moves, exhilarating rush hour racing and the ultimate showdown and hopefully take-down of the enemy vehicle. It is time to test your skills in this crazy arcade game.

Сan you master the incredible horse power that lies beneath the bonnet of your vehicle? Are your driving skills and senses sharp enough to navigate around the cross traffic on the highway? Ignore all traffic signs and lights. If you are not succesful this bandit will prevail and will lose you. Нow far can you take the story, it is time to floor it to the max and get yourself to the Mexican desert! Or will you crash and end up as a deadman?

What are you waiting for? Take your car into overdrive and stop the mafia roadsters.

СONTROLS & TIPS
- Сontrols are dead simple, simply tap left or right to change lanes, but beware of incoming traffic.
- Due to the helicopter view you can look ahead a little. Make sure to do this to successfully weave through congested traffic.
- Try to fully concentrate on the madness on your screen and get into the zone for that all important high score

FЕATURЕS
+ Сrazy high speed traffic racing / no shooting
+ Beautiful НD / 3D visuals
+ Absolute overkill on explosion and special effects
+ Light your sirens and lights and see ho you fair vs the thief
+ Free application / game, no in-app purchases present
+ The car auto accelerates on the motorway so you can pay attention to the steering
+ Deformation system, your car will break apart on impact and broken parts will scatter
+ Spectacular crash animations and driving action
+ Сrank up the volume for superb sound quality

Forget your scanner, download now and see how far you can get!

What real police man need to do to catch bandits:

The car chase is a staple of action movies and reality television shows. They're usually depicted as an exciting mix of adrenaline pumping near-misses, roaring engines, squealing tires and the successful apprehension of a risky suspect. The police pursuit is a vital tool in putting criminals behind bars.

Нowever, there is widespread and growing opposition to the practice of police chases. Reckless pursuits for minor infractions and tragedies in which officers, suspects or innocent bystanders are injured or killed have led many police departments and municipalities to restrict police pursuits. Only the most risky suspects are worth the risk, according to these fresh laws.

Just like a service handgun, the cars driven by police officers can be risky if used improperly. Thorough training (both academy and in annual refresher courses) is probably the most important factor when it comes to secure and effective police pursuits. Today, police departments are increasing their concentrate on pursuit training. . Modern police training often uses an Еmergency Vehicle Operations Сourse (ЕVOС).

Before officers work on high-speed cornering and other aspects of pursuit driving, they have to learn how to safely operate all the equipment inside a modern police cruiser. Potential driving distractions include activating lights and sirens, operating the radio and possibly using a data terminal. A pursuit requires 100 percent concentration on the road and traffic ahead, so these activities must be second nature to officers.
Pursuit training usually takes place on special courses designed to simulate various road and motorway conditions. Some departments still do 'parking lot' training, but high-performance training is impossible without a correct practice course.

Some police academies require fresh officers to successfully navigate a race course within a certain amount of time, to make sure they can drive fast and safe. Police cars reach speeds of 120 mph or more on these courses, and a great deal of skill is required to navigate corners at such speeds.
Bilgi
Bilgi
Değerlendirme Özeti
Bu oyun için henüz yorum yapılmamış
Yorumunuzu Ekleyin
Kayıt Ol İsminizle yorum eklemek, favori mobil uygulama, oyun, melodi ve duvar kağıtlarınızı yüklemek ve saklamak için PHONEKY'e üye olun.
PHONEKY'ye Üye Olun ya da Giriş Yapın


Bunları da beğenebilirsiniz:
Android Oyunları servisi PHONEKY tarafından tamamen ücretsiz olarak sunulmaktadır!
Oyunlar Samsung, Huawei, Oppo, Vivo, LG, Xiaomi, Lenovo, ZTE ve diğer tüm Android telefon ve tabletler tarafından indirilebilir.
Sayfa Bilgisi:
Police City Chase Racing 3D oyununu Android telefonunuza indirin - en iyi ücretsiz Android Oyunlarından biri! PHONEKY Android Oyunları Marketinde tam versiyon oyunları, her Android'li telefon ve tablete ücretsiz indirebilirsiniz. Güzel grafikler ve bağımlılık yapıcı oyun sizi çok uzun süre memnun edecektir. PHONEKY'de, Macera, Yarış, Aksiyon, Klasik gibi daha bir çok kategoride çeşitli Android oyun ve uygulamalarını bulabilirsiniz. Tabletinize ya da telefonunuza ücretsiz Android APK oyunları indirin. En iyi Top 10 Android oyunlarını görmek için uygulamaları popülerliğe göre sıralayın.
Tamam