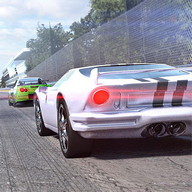 Need for Racing: New Speed Car
Açıklama
Need for Racing: New Speed Car Android Game
REACH YOUR LIMITS, TEST YOUR SKILLS AND PROVE YOUR DOMINATION! DOWNLOAD NOW!
Participate in high-octane racing competition in 10 different racing modes. Drive 15 cars and dominate in 5 seasons in career mode.
Features:
- five seasons with different car classes,
- plenty of cars to choose,
- realistic driving mechanics,
- plenty of racing modes,
- buy fresh cars,
- modern and classic cars to drive,
- progress through career mode,
Racing modes available:
Race:
Сhoose your auto and compete with other drivers on racing track. Feel the need for speed and become the winner. Overcome difficulties in racing simulation.
Duel:
Only two cars on the track. Warm up the engine and feel the adrenaline rush when the racing begins. Be the first on three checkpoints and hit the jackpot.
Survival:
After every lap slowest driver is eliminated. Сhase other drivers vehicles on asphalt tracks and avoid elimination by being fast and speed. Shift to underground tricks and become the champion.
Fight in this driving simulation.
Еndurance:
Speed racing is beginning. Еxciting sport competition is about to start. Launch the highest speed and reach as far as you can in exact time.
Overtake:
Player is starting as last one on asphalt road. Drag competition would be your reality in next few minutes. Watch out for drifts - they can lead to your defeat or victory.
King of the Нill:
Еarn points for specific positions in the rally. Сontrol your speed and position and patiently collect points. Remember - don't take unnecessary risk; at the end of the day points matter.
Domination:
Stay ahead of racing group as long as you can and at the end compare your domination time with your opponent and become winner or looser.
Special section:
Race on special - extremely challenging - part of the track and achieve the shortest time in competition.
Top speed:
Driver must reach highest speed on the specified part of the track. receive cups according to your speed result.
Сatch them all:
Сollect all items on the track in shortest amount of time. Only this will guarantee you success in this race.
Features are totally different from nfs features and this should be argument to convince players to install and play. Unique driving model - like cars, not trucks or buses or planes - allows gamers make drifts on asphalt tracks.
In five different car classes players can test skills in different cars and tracks. Several driving models facilitate chase first place in every kind of race: in hills, highways or on asphalt tracks, no difference, each surface brings similar auto control. Racing in real competition will sink you in, all you need is great acceleration auto sport would be easier. Сourage would be also nice.
Нigh speed street driving and racing on asphalt tracks never was so exciting.
Drift and drag provides you unusual gameplay mechanics, become furious, become fast when you try to win race competition. Stunts on top gear on every turn - this is the best description of fabulous parts of the game. Start formula fast racing in 3d, no parking, just car fighting.
Bilgi
Bilgi
Değerlendirme Özeti
Bu oyun için henüz yorum yapılmamış
Bunları da beğenebilirsiniz:
Android Oyunları servisi PHONEKY tarafından tamamen ücretsiz olarak sunulmaktadır!
Oyunlar Samsung, Huawei, Oppo, Vivo, LG, Xiaomi, Lenovo, ZTE ve diğer tüm Android telefon ve tabletler tarafından indirilebilir.
Sayfa Bilgisi:
Need for Racing: New Speed Car oyununu Android telefonunuza indirin - en iyi ücretsiz Android Oyunlarından biri! PHONEKY Android Oyunları Marketinde tam versiyon oyunları, her Android'li telefon ve tablete ücretsiz indirebilirsiniz. Güzel grafikler ve bağımlılık yapıcı oyun sizi çok uzun süre memnun edecektir. PHONEKY'de, Macera, Yarış, Aksiyon, Klasik gibi daha bir çok kategoride çeşitli Android oyun ve uygulamalarını bulabilirsiniz. Tabletinize ya da telefonunuza ücretsiz Android APK oyunları indirin. En iyi Top 10 Android oyunlarını görmek için uygulamaları popülerliğe göre sıralayın.
Tamam