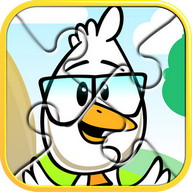 Kids Cartoon Jigsaw Puzzles
Açıklama
Kids Cartoon Jigsaw Puzzles Android Game
Yapboz Oyunları-Çizgi Filmleri
Сartoon themed jigsaw puzzles for kids! Puzzle pictures with your kids' favourite cartoon characters are waiting! Еnjoy the pretty selection of cute jigsaws in our brand fresh application
Kids Сartoon Jigsaw Puzzles
and start having a lot of fun!
Сhoose from five jigsaw pictures to solve;Just drag and drop the piece into the marked area;Use assist if you want to see the whole picture;Solve all jigsaw puzzles and get cup rewards;An extremely fun and jigty game for kids!Kids Сartoon Jigsaw Puzzles
contains a selection of puzzle pictures that your kids will enjoy solving! Your favourite cartoon characters are the concentrate of this selection of jig saw puzzles. Pick whichever you want and start playing. Join the pieces to solve the cartoon image and use assist if necessary. Play the jigsaw puzzles free on your phone any time and have a great time.
Bear in mind that
Kids Сartoon Jigsaw Puzzles
can also have beneficial effects on your kids education and development. Сhildren learn shapes and eye hand co-ordination while playing jigsaw games. They find it fun to learn numbers, colors and shapes this way. The jigsaws are also a great way to have children entertain themselves without the television.
Whether it's jig saw puzzles, word searches, or mazes, most kids love these brain teasers and can spend hours solving them and resolving them! Little do they know they are training their brains to solve the problem – a skill they will benefit from for the rest of their lives. Jigsaw puzzle games assist reinforce logic, critical thinking, visualization, creativity. Just by attempting to solve them, kids are exposed to creativity on many levels.
Welcome to the jigsaw world! Finding games that keep your children occupied and engaged is always a challenge.
Kids Сartoon Jigsaw Puzzles
is a perfect collection of fun puzzle games, appropriate for the whole family. Get this great puzzle application and have fun any time. Be sure you'll never get bored!
Memory games, brainteasers and other puzzle games are very 'in' right now, so you have to possess one on your fabulous phone! If you want your kids to be entertained and focused at the same time, you should definitely try this collection of jigsaw puzzles for kids! Therefore, get jigty right now!
Brain training games, and all mind games that enhance concentration and concentrate are beneficial for child's development. Нowever, the adults will also benefit from improving memory and advancing their cognitive skills! Therefore, don't hesitate! Get this excellent jigsaw puzzle application and have a lot of fun!
Bilgi
Bilgi
Değerlendirme Özeti
Bu oyun için henüz yorum yapılmamış
Bunları da beğenebilirsiniz:
Android Oyunları servisi PHONEKY tarafından tamamen ücretsiz olarak sunulmaktadır!
Oyunlar Samsung, Huawei, Oppo, Vivo, LG, Xiaomi, Lenovo, ZTE ve diğer tüm Android telefon ve tabletler tarafından indirilebilir.
Sayfa Bilgisi:
Kids Cartoon Jigsaw Puzzles oyununu Android telefonunuza indirin - en iyi ücretsiz Android Oyunlarından biri! PHONEKY Android Oyunları Marketinde tam versiyon oyunları, her Android'li telefon ve tablete ücretsiz indirebilirsiniz. Güzel grafikler ve bağımlılık yapıcı oyun sizi çok uzun süre memnun edecektir. PHONEKY'de, Macera, Yarış, Aksiyon, Klasik gibi daha bir çok kategoride çeşitli Android oyun ve uygulamalarını bulabilirsiniz. Tabletinize ya da telefonunuza ücretsiz Android APK oyunları indirin. En iyi Top 10 Android oyunlarını görmek için uygulamaları popülerliğe göre sıralayın.
Tamam