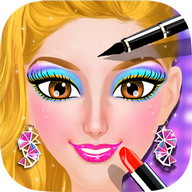 Fashion Girl Mall Beauty Salon
Açıklama
Fashion Girl Mall Beauty Salon Android Game
Güzellik stilist dikkat lütfen! Bu şık kızlar moda makyaj yardımcı olabilir?
Make-Up, Fashion, Hair Styles!!
Get it ALL in one game!
- Pick the hottest Fashion items!
- Choose the best Make-Up
- Create the BEST Hairstyles!
Complete MAKEOVER game just for Girls!
Free to PLAY!
How to Play:
- Use the touch screen to select different models.
- Give each one spa treatments so they're as pretty as can be.
- Cut, style and color their hair.
- Change outfits until you find the perfect one!
- Make your friends jealous of your hot trendy outfits
Watch our super cool video here! https://www.youtube.com/watch?v=TrgxuEdlqb8
Our newest game just came out! Watch magical fairy salon here: http://www.youtube.com/watch?v=ZFrtwgxVSEM
We want to hear your voice!
Like us on Facebook: https://www.facebook.com/pages/Salon-My-Styling-Lounge/650573658373878
Follow us on Twitter: https://twitter.com/SalonTM
Know more about Salon™ on official website: http://www.salongirlgames.com/
Bilgi
Bilgi
Değerlendirme Özeti
Bu oyun için henüz yorum yapılmamış
Bu oyun için henüz yorum yapılmamış.
Diğer PHONEKY Android Oyunlarının Yorumları
Ziyaretçi
Yer: Reserved
Telefon/Tarayıcı: MTN-S730
Ziyaretçi
Yer: Reserved
Telefon/Tarayıcı: Android
Ziyaretçi
Yer: Reserved
Telefon/Tarayıcı: NokiaC2-01
Ziyaretçi
Yer: Reserved
Telefon/Tarayıcı: Android
Ziyaretçi
Yer: Reserved
Telefon/Tarayıcı: VF685
Ziyaretçi
Yer: Reserved
Telefon/Tarayıcı: Android