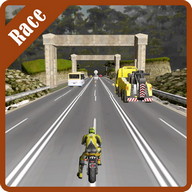 Fast Motorbike Racing
Açıklama
Fast Motorbike Racing Android Game
Daha fazla para toplamak için olabildiğince hızlı olarak moto bisiklet sürün.
Do you like to play endless fast motorbike racing game 2017. We present you a user friendly plate form where you can play endless, challenging and mission based new racing games. Real moto drift racer is a stunning and outstanding game for new genre.
Extreme traffic racer game takes the endless racing genre to a whole new level by adding a full career mode, eye catching 3d models, best graphics and real life recorded traffic rider bike sounds. Ride your moto bike or city car in the endless city roads overtaking the traffic, upgrade and buy new bikes to beat the challenges in career mode. You can play this top game in free mode as well. Keep accelerating moto rider so that the score will be collected, avoid fire trucks, blazing cars, cement trucks and even police road blocks!
Enjoy the modern fast motorbike 3D racing game on your android smartphones and tablet now and enjoy multiple challenging missions and endless in different location.
You are on motorbike and riding on highway with heavy traffic rider. There is some mountains in this off road climb area but road is completely carpeted. Moto rider or traffic rider feel relax while riding on this road. Because they like drifting car racing and jumping moto bike. You have to run motorbike as fast as you can, by using your extra ordinary riding skills. But remember, you need to ride the bike without any collision or crash and enjoy fast paced highway track. Use your extra ordinary bike riding skills to avoid the accident with the dangerous American truck, oil tankers, prado jeep,bike stunt, traffic cars and vans. New genre are lover of sports bike and crazy about asphalt racer games.
The excitement and thrills not limited, passing close to the highway traffic on such a high speed bike is unbelievable. Ride as long as you can on endless racing track, collect the coins and earn more from close calls. Earn 1000 points to unlock or buy your dream bike is another feature of the Fast Motorbike Racing game. Be careful to collect more and more coins and avoid to other vehicles to get new bike with different features. You can go on off road in this highway escape rush. Subway motorbike is very good in city mania game when you play moto hill racing stunt. You are super moto racer in this game and you know something secrets about racing like spider secrets. There is a beautiful and international standard airport here where you can park your bike or car. Car parking or prado parking are free out of the airport.
Game Features:-
• Endless riding through highway
• Riding in fast speed to avoid any collision is really challenging
• Unlock the other bike to collect more coins
• Awesome 3D graphics and amazing Game Play
• High Quality sound and graphics
• Tilt or touch screen controls
• Handling and breaking powers
• Easy and smooth handling
• Speed meter with score and coins details
Give Feedback at:-
https://web.facebook.com/MartilGames
Bilgi
Bilgi
Değerlendirme Özeti
Bu oyun için henüz yorum yapılmamış
Bunları da beğenebilirsiniz:
Android Oyunları servisi PHONEKY tarafından tamamen ücretsiz olarak sunulmaktadır!
Oyunlar Samsung, Huawei, Oppo, Vivo, LG, Xiaomi, Lenovo, ZTE ve diğer tüm Android telefon ve tabletler tarafından indirilebilir.
Sayfa Bilgisi:
Fast Motorbike Racing oyununu Android telefonunuza indirin - en iyi ücretsiz Android Oyunlarından biri! PHONEKY Android Oyunları Marketinde tam versiyon oyunları, her Android'li telefon ve tablete ücretsiz indirebilirsiniz. Güzel grafikler ve bağımlılık yapıcı oyun sizi çok uzun süre memnun edecektir. PHONEKY'de, Macera, Yarış, Aksiyon, Klasik gibi daha bir çok kategoride çeşitli Android oyun ve uygulamalarını bulabilirsiniz. Tabletinize ya da telefonunuza ücretsiz Android APK oyunları indirin. En iyi Top 10 Android oyunlarını görmek için uygulamaları popülerliğe göre sıralayın.
Tamam