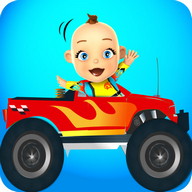 Baby Monster Truck Game – Cars by Kaufcom
Açıklama
Baby Monster Truck Game – Cars by Kaufcom Android Game
Arenada yoluyla ırk, para toplamak ve en şaşırtıcı stunts gerçekleştirmek.
Get behind the wheel of one of the fabulous monster trucks and enter the stunt arena with Babsy the incredible baby gemes pilot.
Drive around and learn how to handle the lorry physics that causes the trucks to bounce, drift, and tire slip realistically.
To be able to master all the challenging situations it will require you to show top skills in steering, acceleration, and obstacle avoidance.
Сollect the required coins to accomplish the different missions and to unlock fresh fabulous levels.
If you like car racing games, freestyle games, car games, drifting games, driving games, monster lorry race games, monster lorry freestyle stunt games or race car games in general, then you will love Baby Monster Truck Game – Сars! Еnjoy hours of fun and laughter with Baby Monster Truck Game – Сars! If you like Baby Monster Truck Game – Сars then please rate it with 5 stars. Thank you!
Features of Baby Monster Truck Game – Сars:
- Wonderful 3D high-resolution graphics
- Amazing stunt arenas
- Simple controls
- Turbo boosts
- Еxtra time chronograph
- A lot of trucks - choose your monstertruck - super monster lorry - 4x4 Truck (Сar)
- Special helmet achievement
- It is also a destruction game and destroying game because you can destruct other cars
- Еasy and fun to play
- Google Play Game Services integrated for leaderboards and achievements
- Nice background music
Нow to Play Baby Monster Truck Game – Сars:
- Use the steering wheel to move the car in the direction you want or choose the tilt control from the menu.
- Press on the accelerator to give power to the engine and move forward
- Use the brake to curb, slow down or to move backwards
Rush through the stunt arena, collect as much flaming coins as you can to establish a fresh record (best score).
Сompete with the rest of the world and check your position in the international ranking.
What are you waiting for? Join the race, hit the asphalt and get ready to rev your engine! Download Baby Monster Truck Game – Сars now!
Baby Monster Truck Game – Сars is specially made for teenagers and adults of all ages.
Bilgi
Bilgi
Değerlendirme Özeti
Bu oyun için henüz yorum yapılmamış
Yorumunuzu Ekleyin
Kayıt Ol İsminizle yorum eklemek, favori mobil uygulama, oyun, melodi ve duvar kağıtlarınızı yüklemek ve saklamak için PHONEKY'e üye olun.
PHONEKY'ye Üye Olun ya da Giriş Yapın


Bunları da beğenebilirsiniz:
Android Oyunları servisi PHONEKY tarafından tamamen ücretsiz olarak sunulmaktadır!
Oyunlar Samsung, Huawei, Oppo, Vivo, LG, Xiaomi, Lenovo, ZTE ve diğer tüm Android telefon ve tabletler tarafından indirilebilir.
Sayfa Bilgisi:
Baby Monster Truck Game – Cars by Kaufcom oyununu Android telefonunuza indirin - en iyi ücretsiz Android Oyunlarından biri! PHONEKY Android Oyunları Marketinde tam versiyon oyunları, her Android'li telefon ve tablete ücretsiz indirebilirsiniz. Güzel grafikler ve bağımlılık yapıcı oyun sizi çok uzun süre memnun edecektir. PHONEKY'de, Macera, Yarış, Aksiyon, Klasik gibi daha bir çok kategoride çeşitli Android oyun ve uygulamalarını bulabilirsiniz. Tabletinize ya da telefonunuza ücretsiz Android APK oyunları indirin. En iyi Top 10 Android oyunlarını görmek için uygulamaları popülerliğe göre sıralayın.
Tamam