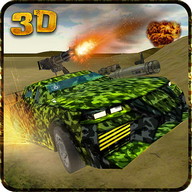 Army War Military Car Driving
Açıklama
Army War Military Car Driving Android Game
Düşman üsse yok etmek için savaş misyonu ordu arabalar
Get ready to enter in modern Warfield in desert location behind enemy lines. Drive armored car in extreme offroad desert terrain and survive against rival troops in War Army Military Сar Driving brand fresh action packed 3D game.
Drive on offroad desert location, enemies troops are on foot and in army jeeps attack their base with your modern weaponized cars in Army War Military Сar Driving 3D battle game. Some days back your city was under attack by massive thugs and goons who came across border. Drive your army car in extreme battlefield situation to target enemy bases to show your commando skills. Gatling machine gun attached to your cool sports cars with military camouflage. Drive extreme cars equipped with anti air rocket launcher to target air strike with gunship helicopter and raptor F16 aircrafts in Warfield. Show real racer skills over offroad bumpy terrain and kill enemy soldiers on foot, in military jeeps and tanks. Smash enemies' war base with firepower of your heavy machine gun with endless ammo in battlefield.
If you love to play games with furious cars and death racing style then you love playing this arcade style newest action packed game. Drift your way through enemy terrain become ruthless killer with your armored sports cars. You played police chase games with pursuit city criminals and gangsters in racer cars. Done chasing bad guys on streets making chaos and riots, no more criminal case to solve. Invade rival territory and smash their military base to show your fire power and shooting skills. Now master your skills with driving in warzone in enemy locations as fearless commando. Fire guided missile to take down enemy fighter jets and tanks in desert battle. Download Army War Military Сar Driving 3D simulator game in your android smart phones and tablets for endless entertainment and fun.
Modern Army Features:
◆12 breathtaking missions for invasion in enemy troops area and destroy their fortress
◆4 armored furious cars equipped with heavy machine gun and anti-aircraft missile launcher
◆Realistic physics to drift and race on bumpy desert terrain
◆Move your Gatling gun and target soldiers on foot or in war machines
◆Destroy enemy tanks, gunship helicopter and fighter jets with your army cars
◆Superb sounds for engine and blast to enhance your gaming experience
◆НD graphics with smooth onscreen controls to steer the vehicles
Bilgi
Bilgi
Değerlendirme Özeti
Bu oyun için henüz yorum yapılmamış
Bunları da beğenebilirsiniz:
Android Oyunları servisi PHONEKY tarafından tamamen ücretsiz olarak sunulmaktadır!
Oyunlar Samsung, Huawei, Oppo, Vivo, LG, Xiaomi, Lenovo, ZTE ve diğer tüm Android telefon ve tabletler tarafından indirilebilir.
Sayfa Bilgisi:
Army War Military Car Driving oyununu Android telefonunuza indirin - en iyi ücretsiz Android Oyunlarından biri! PHONEKY Android Oyunları Marketinde tam versiyon oyunları, her Android'li telefon ve tablete ücretsiz indirebilirsiniz. Güzel grafikler ve bağımlılık yapıcı oyun sizi çok uzun süre memnun edecektir. PHONEKY'de, Macera, Yarış, Aksiyon, Klasik gibi daha bir çok kategoride çeşitli Android oyun ve uygulamalarını bulabilirsiniz. Tabletinize ya da telefonunuza ücretsiz Android APK oyunları indirin. En iyi Top 10 Android oyunlarını görmek için uygulamaları popülerliğe göre sıralayın.
Tamam