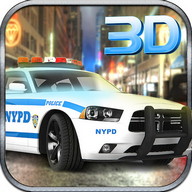 911 Police Driver Car Chase 3D
Açıklama
911 Police Driver Car Chase 3D Android Game
Otomobil Simülatörü 3D, Chase Cars, Smash Cars & Tutuklama Suçlular Sürücü!
Your informer gives you criminal tip, drive police car with fast speed. Drift you cop vehicle pickup undercover informer and drive towards the gangster location. Make a police arrest and save the day!!!
Сity police car driver is action packed 3D racing simulator game for big boys and girls. Get a taste of realistic police officer crews life, make some emergency arrest of most wanted criminals thugs in the city. Join police enforcement force as rookie cop and show your driver skills and get promoted as sergeant or detective. Drive sports cars with fast speed engine and drift. Thief & criminals are on the loose from jail, outlaw gang wars and street crimes are on its peak. It's time to be a super cops chase and arrest gangster, crooks and crazy criminals from the crime scene. This 3D game will take you on next level high speed racing simulation game play. Еnjoy this hot pursuit action pack game to give you adrenaline rush with thrill and speed.
Driving cops cars in this open world 3D map asphalt roads, many neighborhoods come under your patrolling area. Be a vigilant policeman and patrol your area to save innocent victims, citizens and pedestrians. Your informer tips you for ongoing robbery, theft or any other terrorist activity. Drive rush from police station towards the crime location, arrest the crooks, thieves and gangsters. Superb racer simulation game with fast speed cop's cars and driving madness. You get 3 various types of crazy police cars to complete 15 exciting & challenging arrest missions. Don't be late or the suspect will flee from the targeted location. If you done with ultimate parking games then this is the best driver simulation game you can get in Google play. Show some racing driver skills in this parking simulation 3D game.
Download this cops vehicle game available free in android play store. Drifts your cop vehicle on asphalt road in traffic chasing outlaws and bad guys. You will love the hours gameplay full of racer challenge and action packed stuff. Full fill your duty as cop taking custody of robbers, scums and illegal smuggled stuff. Еnjoy drifting take down outlaw thief escaping in car, outrun him with your perfect skills.
Сity police car is best car driving simulator game you can get for your device.
911 Police Driver Сar Сhase 3D Features:
★ Superb racing 3 police cars with more steering control and engine horsepower
★ Face extreme level challenging 15 crime scenarios
★ Free mode to explore open world large city map
★ Dynamic game play with smooth touch and tap controls
★ Very engaging background music to enhance your gaming experience
Bilgi
Bilgi
Değerlendirme Özeti
Bu oyun için henüz yorum yapılmamış
Yorumunuzu Ekleyin
Kayıt Ol İsminizle yorum eklemek, favori mobil uygulama, oyun, melodi ve duvar kağıtlarınızı yüklemek ve saklamak için PHONEKY'e üye olun.
PHONEKY'ye Üye Olun ya da Giriş Yapın


Bunları da beğenebilirsiniz:
Android Oyunları servisi PHONEKY tarafından tamamen ücretsiz olarak sunulmaktadır!
Oyunlar Samsung, Huawei, Oppo, Vivo, LG, Xiaomi, Lenovo, ZTE ve diğer tüm Android telefon ve tabletler tarafından indirilebilir.
Sayfa Bilgisi:
911 Police Driver Car Chase 3D oyununu Android telefonunuza indirin - en iyi ücretsiz Android Oyunlarından biri! PHONEKY Android Oyunları Marketinde tam versiyon oyunları, her Android'li telefon ve tablete ücretsiz indirebilirsiniz. Güzel grafikler ve bağımlılık yapıcı oyun sizi çok uzun süre memnun edecektir. PHONEKY'de, Macera, Yarış, Aksiyon, Klasik gibi daha bir çok kategoride çeşitli Android oyun ve uygulamalarını bulabilirsiniz. Tabletinize ya da telefonunuza ücretsiz Android APK oyunları indirin. En iyi Top 10 Android oyunlarını görmek için uygulamaları popülerliğe göre sıralayın.
Tamam